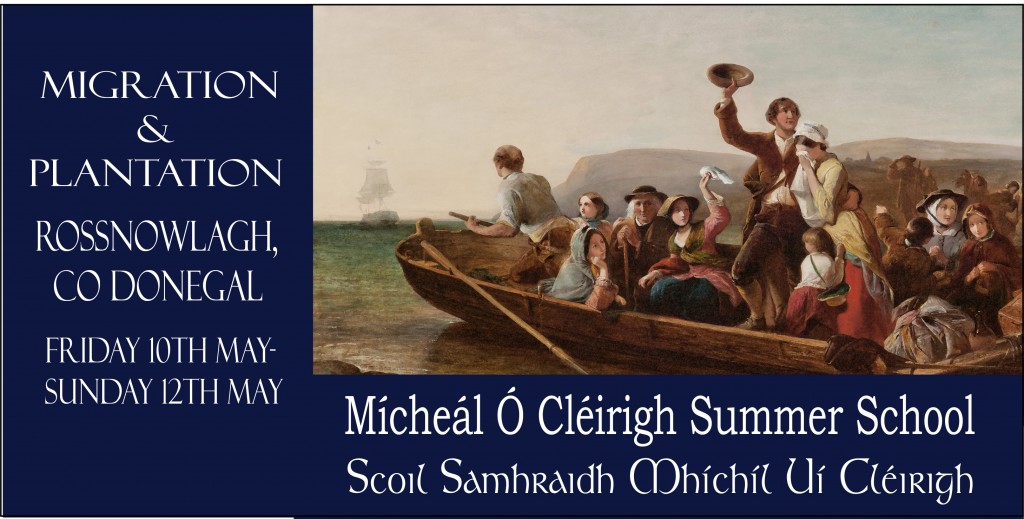 The 2019 Summer School takes place on the weekend of Friday 10th May until Sunday 12th May-  The theme is "Migration and Plantation" The programme of the weekend is now finalised and will explore the events in the first thirty years of the Plantation of Ulster from 1607 to 1637. The latter date denotes the completion of the Annals of the Four Masters.
PROGRAMME OF THE 2019 SUMMER SCHOOL
Friday 10th May
7.00pm
Official opening of the 2019 Mícheál Ó Cléirigh Summer School
 by Linda Ervine
Linda Ervine is the Irish Language Development Officer for East Belfast based at the Skainos Centre. Until eight years ago, when she started learning Irish as part of a cross-community project with women from the nearby nationalist Short Strand, Linda didn't know a word of the language. Now she manages an Irish language project which provides 14 classes of various ability levels per week to over 250 language learners, as well as tin whistle and set dancing classes, children's Irish dancing and monthly historical bus tours.
7.30pm
Local Interest Events
Primary School Art Competition – Prizegiving
Prizes and certificates will be awarded to pupils in the four categories based on the theme of "Coming and Going"-the title of the 2019 Art Competition.
The Categories are:
---
Junior Infants and Senior Infants (A4 size)
-First Class and Second Class (A4 size)
-Third Class and Fourth Class (A4 size)
-Fifth Class and Sixth Class (A3 size)
8.15pm
Sollus School of Highland Dance
Sollus Highland Dancers, based in Bready, Co Tyrone was formed in 2001.  Mischa Dodds (Edinburgh)  helped to build up the dance team and trained up the now tutor Georgina Kee-McCarter. The group in their short history have recorded phenomenal success in the competition arena, the highlight being crowned European & Ulster Choreography Champions. Performing in showcases & festivals has seen some of the dancers travel right across Europe to places such as Holland, Switzerland, Germany, France, Belgium plus numerous events in Britain including Windsor Castle for the Royal Family. Sollus Highland Dancers currently have now 5 qualified tutors and teach almost 600 young people weekly in local schools and community groups.
 8.35pm
Cór Craobhaigh- A musical Performance
In 1987 Angela Currid established a junior choir, called Cór Craobhaigh.
Cór Craobhaigh has been performing locally and nationally for thirty years. The group has provided hundreds of local children with an introduction to music and contributes hugely to the musical fabric of the locality.
Saturday 11th May- morning session
Local History Events
11.00 am
British migration into west Ulster in the 17th Century by Dr Paddy Fitzgerald
Dr. Patrick Fitzgerald was educated at Queen's University Belfast. A former curator at the Ulster-A merican Folk Park he has been teaching a QUB Masters in Irish Migration Studies since 1996.He has published works including: (with Brian Lambkin), Migration in Irish History, 1607-2007 ''Irish Return Migration from the United States in the nineteenth and twentieth centuries and ''Scottish Migration to Ireland in the Seventeenth Century'
12.00 noon
East Donegal- a story of Migration and Emigration
by Belinda Mehaffey
Summer School Events
2.00pm
Introduction to the History talks
By Professor John McCafferty
Director of the Mícheál Ó Cléirigh Institute UCD
Professor John McCafferty is the Director of the Mícheál Ó Cléirigh Institute, a partnership between University College Dublin and the Irish Franciscans. He holds a PhD in history from Cambridge University and has taught in UCD, where he took his first two degrees since 1994. He has published on the histories of both Protestant and Catholic Churches in early modern Ireland. He has contributed talks to this Summer School every year since its inception in 2014 and gives valuable help and advice to the organising committee in planning the weekend's historical context and speakers each year.
2.30pm
Music of the Plantation
by Dr Kerry Houston, PhD MA LRSM
Head of the Department of Academic Studies at the DIT Conservatory of Music and Drama.
Kerry's research interests focus on source studies and especially those of sacred music Ireland 1660–1900 . In addition to the publications detailed here, future projects include the preparation of a complete critical edition of the sacred music of Daniel, Thomas and Ralph Roseingrave and a catalogue of music manuscripts at Saint Patrick's and Christ Church Cathedrals. Other research interests include editing and stemmatic analysis; harmonic theory and reception history with particular interest in Mendelssohn; theology and number symbolism in music.Kerry is the Chairman of RILM Ireland; a founder member of the RISM Ireland Steering Committee; honorary treasurer of the Irish Society for Archives; and honorary treasurer for the Dublin University Far Eastern Mission. Kerry was a contributor and co editor (with Barra Boydell), Ireland, Music and the Seventeenth Century, Irish Musical Studies, Vol. 10 (Dublin: Four Courts Press, 2009)
3.30pm
Visualising the Plantation: Surveys and Maps of Ulster 1580-1640
by Annaleigh Margey DIT Dundalk
Annaleigh Margey is a Lecturer in History at Dundalk Institute of Technology. Originally from Letterkenny, she studied for her BA and PhD at NUI, Galway. Her PhD research titled 'Mapping during the Irish Plantations, 1550-1636', focused on the surveys and maps created in Ireland during the decades of plantation. She subsequently held an Irish Research Council Postdoctoral Fellowship and a J.B. Harley Fellowship in the History of Cartography to continue this research at Trinity College Dublin. More recently, Annaleigh has worked as a Research Fellow at the University of Aberdeen on 'The 1641 Depositions Project' and at the Institute of Historical Research, London, conducting research on the property and charity of the Clothworkers' Company in early modern London. She has also worked as a Research Fellow on a joint project with NUI, Maynooth and the National Library of Ireland focusing on the rentals and maps in the landed estates' collections in the library's holdings. She has published books and articles on early modern Ireland, including an edited volume, The 1641 Depositions and the Irish Rebellion, with her colleagues Elaine Murphy and Eamon Darcy. Her book Mapping Ireland, c.1550-1636: a catalogue of the manuscript maps of Ireland will be published by the Irish Manuscripts Commission in late 2018. Most recently, she has been a contributor to The Cambridge History of Ireland, vol. II and has worked on a cross-border project with Armagh Robinson Library and Marsh's Library, Dublin to digitise, and exhibit, the map holdings of the two eighteenth-century libraries.
---
 

John Speed
John Speed printed this map of Ulster in 1611.On the reverse of the map there is a complete set of text briefly describing the history and topography of the province. To see this map in detail see link on right hand column.
Joan Blaeu
Map making was the new science of the late middle ages. Dutch mapmaker, Joan Blaeu followed his father William Blaeu as a cartographer and published this map of Ulster. It is a hand-coloured, engraved map of 'Vultonia; Hibernis Cujgujlly; Anglis Vlster', in the first state as published in the 1654 fifth volume of Novus Atlas. To see this map of Ulster in detail see link on right hand column on this page:
---
5.00pm
Keynote Address
"I praye God ye may make us all merye":      
Migrating Women and the Ulster Plantation
by Professor Anne Louise Coolahan NUI Galway
Marie-Louise Coolahan is a graduate of Trinity College Dublin (BA 1994), Oxford University (MPhil 1996), and Nottingham Trent University (PhD 2000). In 1996 she was awarded a doctoral bursary to work with the AHRB-funded Perdita Project, which was founded to research sixteenth- and seventeenth-century women's manuscript compilations, and to produce a searchable electronic database comprising bibliographical descriptions and detailed analyses of approximately 400 manuscripts. Her doctoral thesis, 'Gender and Occasional Poetry in Seventeenth-Century Manuscript Culture', was completed in 2000, since which time she has been a member of the English Department at NUI, Galway.She was a visiting research fellow at the Institute of English Studies, University of London, 2004-5 and a Government of Ireland Research Fellow, funded by the IRCHSS, 2006-7. Marie-Louise was awarded a research fellowship at the Folger Shakespeare Library, Washington D.C., and elected a Fellow of the Royal Historical Society (UK) in 2012.Most recently, Marie-Louise has been awarded a European Research Council Consolidator Grant (Principal Investigator) for her project, RECIRC: The Reception and Circulation of Early Modern Women's Writing, 1550-1700. This project, which will run from July 2014 to June 2019, will produce a new, large-scale understanding of how women's writing circulated, using the results to analyse how texts, ideas and reputations gained traction in the early modern English-speaking world. It will focus specifically on international correspondence networks, transnational religious orders, and the manuscript miscellany as a mode of textual transmission.
---
8.00pm
School Dinner- Sandhouse Hotel Rossnowlagh
for updates see:

https://www.facebook.com/mocleirighschool/
Fáilte chuig Scoil Samhraidh
 Mhíchíl Uí Chléirigh
 A Summer School for remembering, for learning, for enjoyment.  We remember a great local man, Mícheál Ó Cléirigh.  We learn from scholars about his story and his times.  We begin to understand what this means for us today.  And we enjoy ourselves.  We travel to local historic sites.  We visit Mícheál's birthplace.  We walk the beautiful Rossnowlagh beach.  We  talk late into the evening in the local hostelries. Welcome to the Mícheál Ó Cléirigh Summer School to a family distinguished by scholarship. His older brother, Maolmhuire (Fr Bernadine) was ordained in Salamanca, Spain, later moving to Louvain, Belgium in 1619 and Michael joined him a few years later. As a lay brother Michael was able to concentrate on historical research and transcription rather than on priestly duties.  In 1626 he was dispatched by a fellow Donegal man, Hugh Ward to Ireland to collect the lives of the Irish saints.  This he did.  But he also did more. For 10 years, Michael travelled the length and breadth of Ireland gathering the ancient manuscripts and histories wherever he could find them.  He and his collaborators transcribed the material into Annála Ríochta na hÉireann (the Annals of the Four Masters). They left us with an incomparable record of the history of Ireland.
The Micheál Ó Cléirigh School Partnership
The Mícheál Ó Cléirigh School has been set up by a partnership of:
♦ Local people from Ballyshannon / Creevy / Rossnowlagh in Co. Donegal with a mission to preserve the memory of a great local hero.
♦The Franciscan Friars who established a Friary on Donegal Bay 1474 and played such  an important part in Irish writing and scholarship from their monasteries in Ireland and Louvain.
♦The Mícheál Ó Cléirigh Institute at University College Dublin repository of an unparalleled archive of  historical documents and the centre of voluminous research on Irish medieval history since its inception in the year 2000. See: www.ucd.ie/mocleirigh
           The Mícheál Ó Cléirigh Summer School Rossnowlagh, Co. Donegal
The inaugural programme of the Mícheál Ó Cléirigh School took place on Saturday 17th May, 2014. with the theme  "Mícheál Ó Cléirigh" The main events were held in the Ó'Cléirigh Hall beside the Franciscan Friary at Rossnowlagh, close by the birthplace of Mícheál Ó Cléirigh on lands originally belonging to the Ó Cléirigh clan, prior to 1610. The venue was an appropriate one, as it was built by the Franciscan Friars who returned to Donegal  in 1946. They were, of course, influenced by the association of the area with some of the renowned members of their Irish fraternity, such as  Mícheál Ó Cléirigh, John Colgan and Hugh Ward.
The Second Mícheál Ó Cléirigh School took place at Rossnowlagh on the weekend of 15th  – 17th May, 2015. The theme "Saints and Scholars"
The Third Mícheál Ó Cléirigh Summer School was held over the weekend of Friday 27th May to Sunday 29th May 2016. The theme "Refugees and Strangers"
The Fourth Mícheál Ó Cléirigh Summer School was held over the weekend of Friday 12th May to Sunday 14th May 2017. The theme "Irish and European"
The Fifth Mícheál Ó Cléirigh Summer School was held over the weekend of Friday 11th May to Sunday 13th May 2018. The theme was "Annals and Earls"
See also our picture gallery from all four Summer Schools 2014,2015,2016, 2017 & 2018.