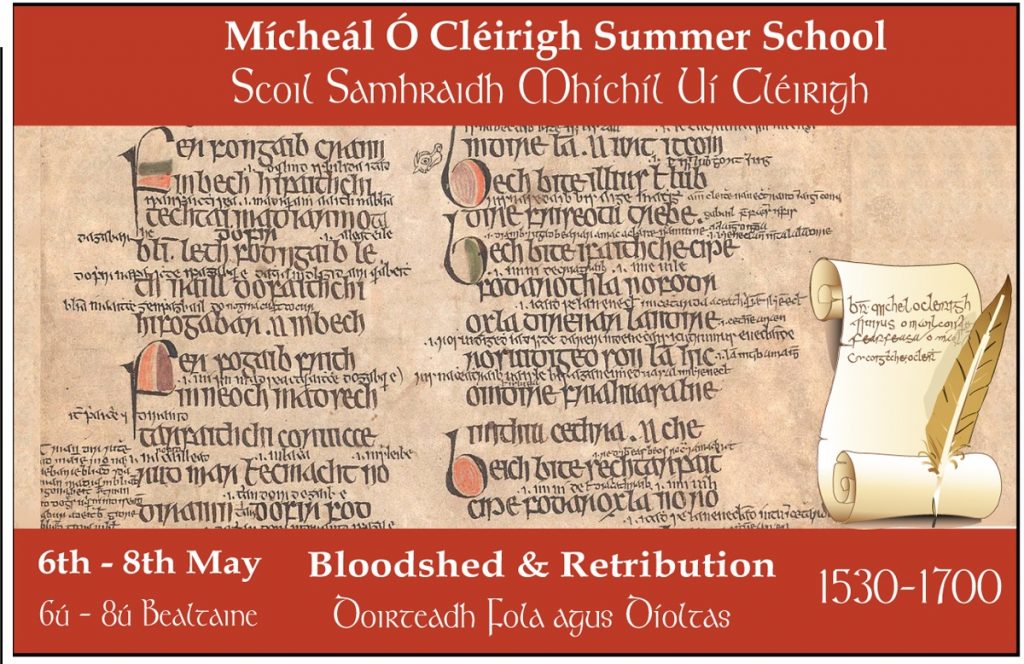 The dates for the 2022 Mícheál Ó Cléirigh Summer School are from Friday 6th May until Sunday 8th May. We are currently preparing the programme for the weekend and will publish the full list of events on our website whenever events are confirmed. The theme of the 2022 Summer School is 'Bloodshed and Retribution' / 'Doirteadh Fola agus Díoltas' and the weekend talks will explore the transition from Gaelic society with the loss of the Brehon laws to the new system of English Common law that for the first time was enforced throughout the Kingdom of Ireland.
Welcome to the Mícheál Ó Cléirigh Summer School
From the 1530s to the War of the Three Kings( James II, Louis XIV, and William III) in the 1690s, Ireland experienced intense levels of violence. The life of Ó Cléirigh and his contemporaries was deeply marked by aggression at every level from confiscation of land, to crime, to martial law and to wars of conquest and colonisation.
This year's Summer School will look at this world of bloodshed and retribution. We'll also consider how changing legal codes, in a time when English Common Law spread out over the whole island, operated in a country whose inhabitants were marked out by ethnic, religious and linguistic difference.
For the men and women who lived in 16th and 17th century Ireland aggression and disturbance were everyday events as were attempts to resolve disputes and to punish those believed to be wrongdoers. The SummerSchool will take place from Friday 6th May until Sunday 8th May 2022 in Rossnowlagh, Co Donegal.
The programme is currently being prepared and will be published in due course. We hope that most of the Covid restrictions will be relaxed by May but in these uncertain times we may have to adjust the programme events in due course.
Fáilte chuig Scoil Samhraidh Mhíchíl Uí Chléirigh
Idir 1530 AD agus aimsir Chogaidh na dTrí Rí (Rí Séamus a Dó agus Rí Louis XIV i gcoinne Rí Liam III) sa bhliain 1690, d'fhulaing Éire faoi ardleibhéil fhoréigin. Bhí saol Mhichíl Uí Chléirigh agus a lucht comhaimsire buailte go dona de dheasca ionsaí ar gach leibhéal .i. choigistiú talún, coir, dlí airm, cogaí gabháltais agus cogaí coilínithe.
Beidh Scoil Samhraidh 2022 ag féachaint ar an saol seo agus an doirteadh fola agus díoltas a tharla. Déanfaimid machnamh freisin ar an gcaoi ar oibrigh an cód dlí nua, le linn leathnaithe Dlí Coiteann Shasana amach ar fud an oileáin go léir, i dtír a raibh difríochtaí ollmhóra eitneach, reiligiúnach agus teanga i measc na háitritheoirí.
Maidir leis na fir agus na mná a bhí ina gcónaí in Éirinn sa 16ú agus sa 17ú haois ba imeachtaí laethúla iad ionsaí agus racáin. Mar ag céanna le hiarrachtaí díospóidí a réiteach nó pionós a ghearradh orthu siúd a chreidtear a bheith ina mbíobhaí fosta
The Micheál Ó Cléirigh School Partnership
A Summer School for remembering, for learning, for enjoyment.  We remember a great local man, Mícheál Ó Cléirigh.  We learn from scholars about his story and his times.  We begin to understand what this means for us today.  And we enjoy ourselves. 
We travel to local historic sites.  We visit Mícheál's birthplace.  We walk the beautiful Rossnowlagh beach.  We  talk late into the evening in the local hostelries. Welcome to the Mícheál Ó Cléirigh Summer School to a family distinguished by scholarship. His older brother, Maolmhuire (Fr Bernadine) was ordained in Salamanca, Spain, later moving to Louvain, Belgium in 1619 and Michael joined him a few years later. As a lay brother Michael was able to concentrate on historical research and transcription rather than on priestly duties. 
In 1626 he was dispatched by a fellow Donegal man, Hugh Ward to Ireland to collect the lives of the Irish saints.  This he did.  But he also did more. For 10 years, Michael travelled the length and breadth of Ireland gathering the ancient manuscripts and histories wherever he could find them.  He and his collaborators transcribed the material into Annála Ríochta na hÉireann (the Annals of the Four Masters). They left us with an incomparable record of the history of Ireland.
The Mícheál Ó Cléirigh School has been set up by a partnership of:
Local Organising Committee
Local people from Ballyshannon, Creevy and Rossnowlagh area in Co. Donegal who wish to preserve the memory of Mícheál Ó Cléirigh, a local hero who did so much to preserve the ancient and medieval period of Irish History.
Franciscan Community Rossnowlagh
---
The Franciscan Friars who established a Friary on Donegal Bay 1474 and played such an important part in Irish writing and scholarship from their monasteries in Ireland and Louvain.
Mícheál Ó Cléirigh Institute UCD
---
The Mícheál Ó Cléirigh Institute at University College Dublin repository of an unparalleled archive of historical documents and the centre of voluminous research on Irish medieval history since its inception in the year 2000. See: www.ucd.ie/mocleirigh
The Mícheál Ó Cléirigh Summer School Rossnowlagh, Co. Donegal
Background
2014–
The inaugural programme of the Mícheál Ó Cléirigh School took place on Saturday 17th May, 2014. with the theme  "Mícheál Ó Cléirigh" The main events were held in the Ó'Cléirigh Hall beside the Franciscan Friary at Rossnowlagh, close by the birthplace of Mícheál Ó Cléirigh on lands that belonged to the Ó Cléirigh clan, prior to 1610. The venue was an appropriate one, as it was built by the Franciscan Friars who returned to Donegal in 1946. They were, of course, influenced by the association of the area with some of the renowned members of their Irish fraternity, such as  Mícheál Ó Cléirigh, John Colgan and Hugh Ward.
2015 –
The Second Mícheál Ó Cléirigh School took place at Rossnowlagh on the weekend of 15th  – 17th May, 2015. The theme was "Saints and Scholars" "Naomh agus Scoláirí " The original purpose of Mícheál Uí Cléirigh's return to Ireland was to collect information on the many Irish Saints and to record their information.
2016-
The Third Mícheál Ó Cléirigh Summer School was held over the weekend of Friday 27th May to Sunday 29th May 2016. The theme was "Refugees and Strangers" "Dídeanaithe agus Strainséirí " This examined the exodus of many of the Gaelic nobility who left Ireland for European countries and how they coped by being refugees far from their native land.
2017–
The Fourth Mícheál Ó Cléirigh Summer School was held over the weekend of Friday 12th May to Sunday 14th May 2017. The theme was "Irish and European" "Gaelach agus Eorpach" The weekend events looked at the relationship between Ireland and European countries in the 16th and 17th Centuries and how this has continued to the present time.
2018–
The Fifth Mícheál Ó Cléirigh Summer School was held over the weekend of Friday 11th May to Sunday 13th May 2018. The theme was "Annals and Earls" "Annála agus Iarlaí " This looked at the way the Ulster Earls were described in the Annals of the Four Masters and did they have a particular O'Donnell favouritism in their recording of the events of the late 16th and Early 17th Centuries.
2019-
The Sixth Mícheál Ó Cléirigh Summer School was held over the weekend of Friday 10th May to Sunday 12th May 2019. The theme was "Migration and Plantation" "Imirce agus Plandáil" The Ulster Plantation had a tremendous effect on the lives of the Gaelic Scholars and they found that their skills and learning was no longer required.
2020-
Due to Covid 19 health restrictions the 2020 Summer School was cancelled.
2021 –
A Virtual Summer School was held from Thursday 6th to Sunday 9th of May. The theme was "Women in Turbulent Times- Mná in Aimshir Chorraithe 1551- 1651" This virtual school looked at the way women of the period recorded events in letters sent to their parents husbands and siblings and how they wrote about the things that mattered to their lives and families.
See also our picture gallery from all seven Summer Schools 2014,2015,2016, 2017, 2018, 2019 & 2021.