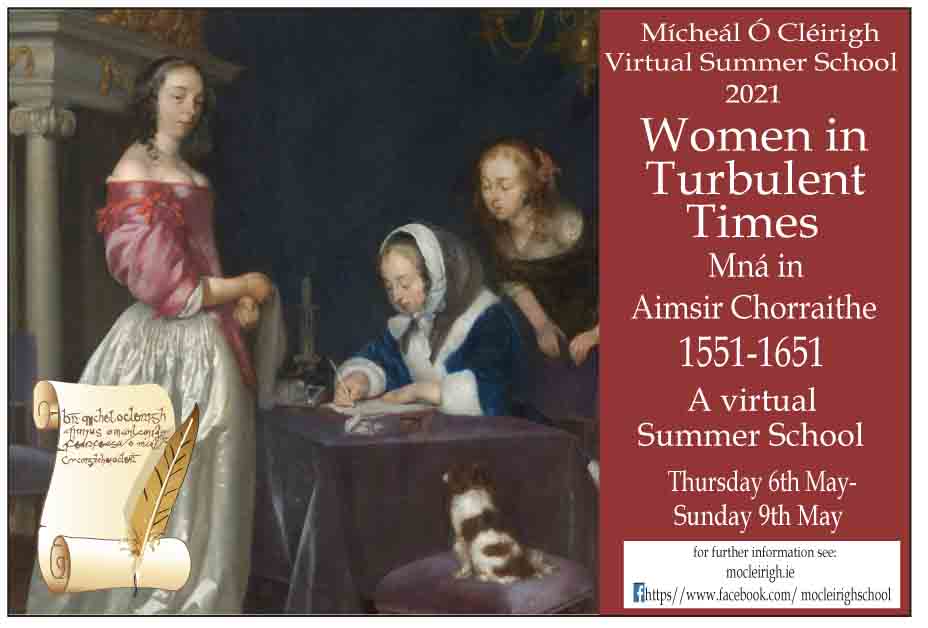 Mícheál Ó Cléirigh Summer School 2021
Thursday 6th May until Sunday 9th May
The Mícheál Ó Cléirigh Virtual Summer School ended on Sunday evening 9th May. We wish to thank all those people who made it a success. The speakers Kelly Fitzgerald, Tony Lenihan, Naomi McAreavey and Anne Marie Walsh. John McCafferty gave us an overview of the objectives of the Summer School and was on hand each evening to facilitate the many questions from the virtual audience. Musical interludes were performed by Aonghus MacAmhlaigh on the Cello.
Here follows a brief outline of the talks and events which took place over the weekend. The talks are on the website at present to allow those who wish to hear them a chance to do so. They will remain there for approximately two weeks.
Thursday 6th May
The Virtual Summer School was opened by Bridie Mullin, Chairperson of the Mícheál Ó Cléirigh Summer School who welcomed the virtual audience and gave a brief outline of the background of the summer school and how after the cancellation of the 2020 Summer School weekend and with the possibility of ongoing restrictions due to the Covid 19 health crisis, that if restriction were still in place by May 2021 to go ahead with the summer school but to have it online.
Outline and objectives of the 2021 Summer School
Professor John McCafferty
Professor John McCafferty, Head of the Mícheál Uí Cléirigh Institute UCD gave the virtual audience an outline of the theme of "Women in Turbulent Times" and how the history of women had been largely ignored by historians in the past and how new ground was being discovered in the correspondence of the women of the period of the late middle ages and the early modern period. He referred to the fact that Br Mícheal Ó Cléirigh had consulted the Bansheanchas, a book noting many famous Irish women from earliest times up until the 11th Century portions of which are found in the Book of Leinster and the Book of Uí Máine. However he was disparaging of what he read and did not incorporate it into the Annals
Gráinne Mhaoil
Dr Kelly Fitzgerald UCD
Gráinne Mhaol the Pirate Queen was born around 1530 into the Ó Máille family. Her father was chieftain in Mayo. With her own fleet of ships, she raided the west coast and amassed great wealth. She was one of the last Gaelic Irish leaders to resist English rule in Ireland.
The first talk at the Mícheál Ó Cléirigh Virtual Summer School was given by Dr.Kelly Fitzgerald on the evening of Thursday 6th May and she examined the folk stories about the life and times of Gráinne Uí Máile, Grace O'Malley, also known as Gráinne Mhaol anglicised as "Granuaile"
Without revealing too much about the story of this powerful woman, who was born in 1530 into the seafaring clan of the O'Malley's who as well as controlling much of the sea trade in the seas around Connacht ruled the coastal territory around Clew Bay.
Surprisingly the deeds of Granuaile are not mentioned in the Annals of the Four Masters and evidence of her exploits come from English State papers.
She took over the O'Malley lordship after her father's death. Her first husband Dónal an Chogaidh (Donal "of the war") Ó Flaithbheartaigh brought her greater wealth and influence, reportedly owning as much as 1,000 head of cattle and horses.
Dónal an Chogaidh was killed in a skirmish with the rival Joyces in 1565, later she married Risdeárd an Iarainn (Richard the Iron) Bourke. In 1593, when her sons Tibbot Bourke and Murchadh Ó Flaithbheartaigh (Murrough O'Flaherty), and her half-brother Dónal an Phíopa ("Donal of the Pipes"), were taken captive by the English governor of Connacht, Sir Richard Bingham, O'Malley sailed to England to petition for their release.
She met Queen Elizabeth at Greenwich Palace, near London and so impressed her that the queen promised to remove Sir Richard Bingham as Lord President of Connacht and release her family members from captivity.
During the Nine Years War she remained loyal to the Crown in order to preserve her lands, successful for a time but her nemesis Sir Richard Bingham returned and quartered his troops on her lands. She died in 1603 at Rockfleet Castle in west Mayo.
Kelly Fitzgerald, Head of Irish Folklore & Ethnology in the School of Irish, Celtic Studies and Folklore, UCD graduated in folklore and early (medieval) Irish at UCD with her doctoral dissertation on Literary and Oral Interaction in Irish Folklore. Kelly is also on the editorial board of Béaloideas, Journal of the Folklore Society.
Friday 7th May
Local Primary School Arts Winners

Each year since the inaugural Summer School in 2014 there has been a Primary School Art Competition where all schools in the locality, wishing to participate, have submitted art work by their pupils in four categories based on the theme of the Summer School for that year. This year even with the school year being largely interrupted, we had nine local primary schools entering the competition. The winners, runners up and those highly commended prizes and certificates were sent to each school.
Logainmneacha Chill Bharrainn
Tony Lenihan
Did you ever wonder what is the origin of the place name where you live in Ireland? Most Irish townland names come from Gaelic and are usually descriptive of their physical surroundings – at least what its main feature was many centuries ago. Some townland names are commonly found throughout the land and are pretty straightforward for example in Kilbarron parish, Cashelard, An Caiseal Ard –meaning the high cashel (stone fort). Others are more difficult to discern and nobody knows for sure- Knader might be Cnadair (Modern Irish, Cnádán) meaning burdock or could be Cnó dara meaning Oak nuts!
Whilst some of this could lead to a good argument for a whole evening or longer, there is a more serious aspect to this, being the loss of use and knowledge of these names with the modern need for postcodes, rendering townland addresses obsolete. This, as well as the loss of names of townland sub-divisions and field names, that were in common usage until recent times.
As part of our local history section of the Mícheál Ó Cléirigh Summer School, Tony Lenihan gave our virtual audience an overview of the origins and meanings of many place names in Ireland with particular emphasis on ones found in the parish of Kilbarron.
Proud Cork man, Tony Lenihan was awarded B.A. in Mathematical Science, Diploma Computer Science in UCC and M.Litt.at Nua-Ghaeilge ar Ollscoil na hÉireann Mhá Nuad (Maynooth). Tony worked as a Mainframe analyst/programmer and former IT lecturer at Galway Regional Technical College. He resided in Germany and Watford, England as well as Connacht, Leinster and Ulster, hence his great interest in place names.
Saturday 8th May
'The Duchess of Ormonde and the Viceregal Court in Restoration Dublin'
Dr Naomi McAreavey
Elizabeth Butler, first Duchess of Ormonde. Far from being overshadowed by her powerful husband, James Butler, twelfth Earl and first Duke of Ormonde, Elizabeth had very significant power and influence in her own right.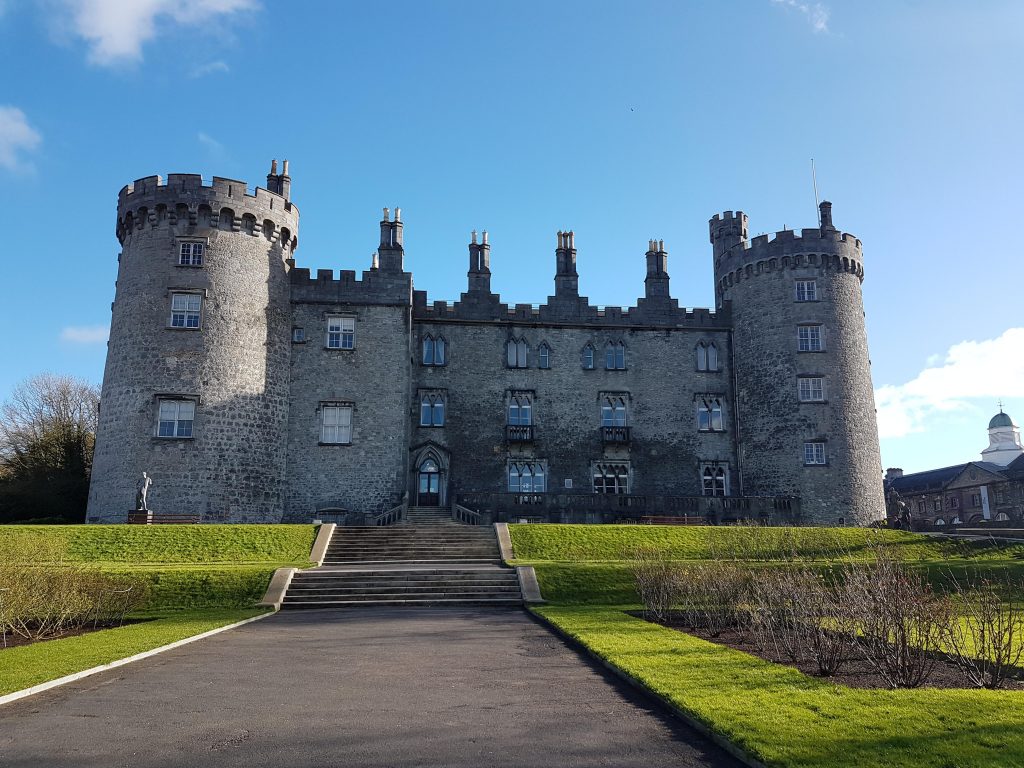 She was born Elizabeth Preston in 1615, the daughter of Richard Preston, Earl of Dingwell & Desmond and Elizabeth Butler who was the daughter of Black Tom Butler. In the complex dynastic marriages of the late middle ages, after her first husband died, she was destined to marry her cousin James Butler, Lord Thurles, their marriage would re-unite the vast Butler estates in counties Kilkenny and Tipperary.
Elizabeth Preston came to the marriage as a wealthy heiress having inherited her father's and grandfather's estates in both Ireland & Scotland.
James Butler, was favoured by King Charles and the Lord Deputy, Thomas Wentworth, the Earl of Stafford. With the outbreak of rebellion in Ulster in 1641 James Butler became head of the Royal Army in Ireland and in 1642 and was made the Marquess of Ormonde. Elizabeth remained in Kilkenny Castle helping fleeing Protestant refugees until she was reunited with her husband in Dublin later the same year.
In the shifting allegiances of the time, James and Elizabeth Butler remained steadfastly loyal to the monarchy and with the successful conquest of Ireland by the Parliamentary forces of Oliver Cromwell, both departed to the Continent to remain part of the exiled court of Charles Stewart, son of the executed King Charles I. Their estates in Ireland were confiscated and they were penniless. Later in 1652 Elizabeth petitioned Oliver Cromwell for the income of the land she owned and was granted a pension of £2,000 per annum, on the condition that she would not correspond with her husband!
On the restoration of the monarchy in 1661, James Butler was richly rewarded for his loyalty and returned to Ireland as Viceroy and was made the Duke of Ormonde. Elizabeth as Duchess and Vicereine left a wealth of correspondence which gives great insight of political and domestic affairs of the period for the next twenty years.
Dr Naomi McAreavey, Vice Principal for Teaching and Learning, College of Arts and Humanities UCD having completed doctorate at Queen's University, Belfast. Specializing in literature and culture of early modern Ireland, particularly women's writing and memory cultures of 1641 rebellion, specifically Letters of the First Duchess of Ormonde, Elizabeth Butler.
Sunday 9th May
'The seventeen-century Boyle women: writing family and voicing the female'
by Dr Ann-Maria Walsh
The final talk of the Mícheál Ó Cléirigh Virtual Summer School took place on the evening of Sunday 9th May at 8pm.
Richard Boyle was born in Canterbury, England in 1566 and came to Ireland in 1588 and later he obtained an appointment of deputy escheator to John Crofton in 1590. This role which involved the transfer of property to the Crown left him in prime position to acquire recently confiscated lands in the aftermath of the Desmond rebellion in Munster. He married Joan Apsley an heiress who brought him an estate worth £500 a year. Joan Apsley died in childbirth in 1599. In 1602 on the same day he was knighted, he married his second wife Catherine Fenton, daughter of Sir Geoffrey Fenton who was the principal secretary of state in Ireland. In the same year bought Sir Walter Raleigh's estates of 42,000 acres for £1,500 making Lismore Castle his principle residence.
Throughout his career he made a lot of enemies and on occasion ended up in prison but always managed to get himself out of trouble. After the death of Queen Elizabeth he set about planting his estates in Munster with English tenants and founded the town of Clonakilty in 1613.
When Thomas Wentworth, Earl of Strafford became Lord Deputy in 1633 he successfully deprived Richard Boyle of much of his privilege and income. Boyle patiently husbanded forces in opposition to Strafford's Irish program and this successful political manoeuvring by Richard Boyle was an important factor in Strafford's being found guilty of treason and beheading.
During the 1641 rebellion and Catholic Confederation Richard Boyle successfully held much of Cork for the Royalists and later for Parliamentary Forces.
Richard Boyle had fifteen children by Catherine Fenton, twelve survived into adulthood. Much of the correspondence featured in this talk by Dr Anne Marie Walsh is from Richard Boyle's seven daughters Alice, Sara, Lettice, Joan, Katherine, Dorothy, and Mary giving us a great insight of the period.
Dr Ann-Maria Walsh, awarded PhD at UCD, teaches at School of English, UCD as well as working as researcher in the University's cultural heritage collections area. Ann-Maria's research interests include seventeenth-century women's letters, diaries, and other autobiographical writings, as well as early modern literature, material culture, and Irish and British history.
We hope that this has gone some way to give a flavour of what our Summer School weekends are like and to make up for the loss of our actual Summer School usually held in Rossnowlagh, Co. Donegal, each year and which we hope can resume as normal once again in 2022.
Mícheál Ó Cléirigh Summer School Committee
Monday 24th May 2021