The 2022 Summer School
The 2022 Mícheál Ó Cléirigh Summer School takes place over the weekend of Friday 6th May until Sunday 8th May in the Sandhouse Hotel in Rossnowlagh, Co. Donegal. The programme for the weekend is now complete and can be seen below.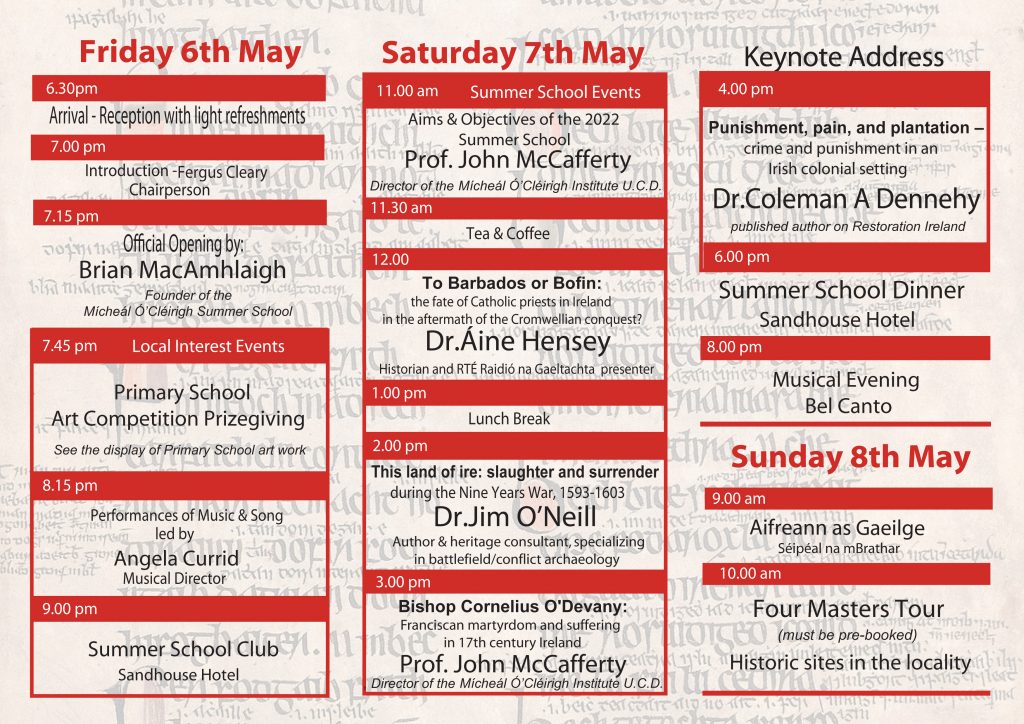 The theme of the 2022 Summer School is 'Bloodshed and Retribution' / 'Doirteadh Fola agus Díoltas and the various talks will explore the transition from Gaelic society with the change from the Brehon laws to the new system of English Common law that, for the first time, was enforced throughout the Kingdom of Ireland.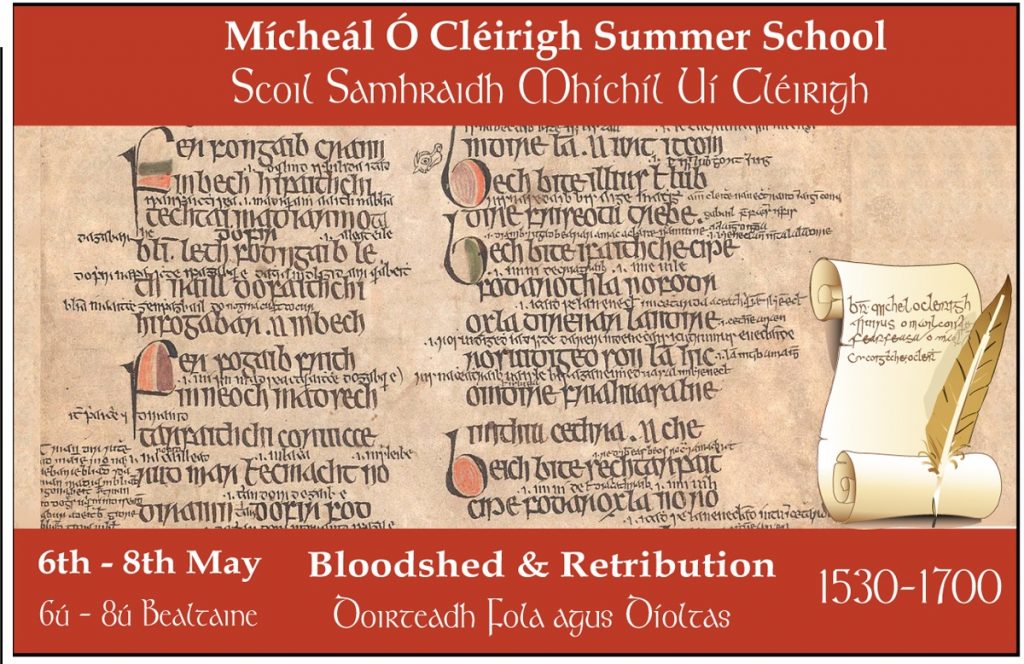 Welcome to the Mícheál Ó Cléirigh Summer School
From the 1530s to the War of the Three Kings in the 1690s, Ireland experienced intense levels of violence. The life of Ó Cléirigh and his contemporaries was deeply marked by aggression at every level from confiscation of land, to crime, to martial law and to wars of conquest and colonisation.
This year's Summer School will look at this world of bloodshed and retribution. We'll also consider how changing legal codes, in a time when English Common Law spread out over the whole island, operated in a country whose inhabitants were marked out by ethnic, religious and linguistic difference.
For the men and women who lived in 16th and 17th century Ireland aggression and disturbance were everyday events as were attempts to resolve disputes and to punish those believed to be wrongdoers.
Fáilte chuig Scoil Samhraidh Mhíchíl Uí Chléirigh
Idir 1530 Fáilte chuig Scoil Samhraidh Mhíchíl Uí Chléirigh AD agus aimsir Chogaidh na dTrí Rí (Rí Séamus a Dó agus Rí Louis XIV i gcoinne Rí Liam III) sa bhliain 1690, d'fhulaing Éire faoi ardleibhéil fhoréigin. Bhí saol Mhichíl Uí Chléirigh agus a lucht comhaimsire buailte go dona de dheasca ionsaí ar gach leibhéal .i. choigistiú talún, coir, dlí airm, cogaí gabháltais agus cogaí coilínithe.
Beidh Scoil Samhraidh 2022 ag féachaint ar an saol seo agus an doirteadh fola agus díoltas a tharla. Déanfaimid machnamh freisin ar an gcaoi ar oibrigh an cód dlí nua, le linn leathnaithe Dlí Coiteann Shasana amach ar fud an oileáin go léir, i dtír a raibh difríochtaí ollmhóra eitneach, reiligiúnach agus teanga i measc na háitritheoirí.
Maidir leis na fir agus na mná a bhí ina gcónaí in Éirinn sa 16ú agus sa 17ú haois ba imeachtaí laethúla iad ionsaí agus racáin. Mar ag céanna le hiarrachtaí díospóidí a réiteach nó pionós a ghearradh orthu siúd a chreidtear a bheith ina mbíobhaí fosta.