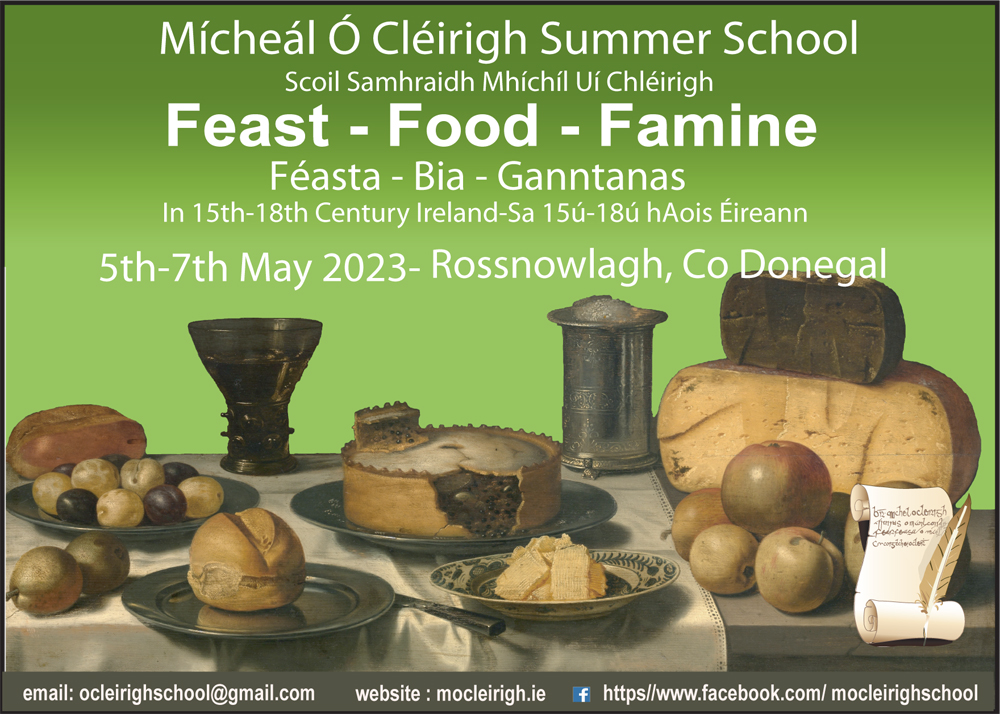 The 2023 Mícheál Ó Cléirigh Summer School will take place over the weekend of Friday 5th May until Sunday 7th May in Rossnowlagh, Co. Donegal.
The theme of the 2023 Summer School is Feast- Food- Famine / Féasta – Bia- Ganntanas and the various talks will explore the hardships of day-to-day life in post medieval Ireland in the period from 1500 to 1800 where seasons good or bad could determine the life expectancy of men, women and children.
The speakers for the 2023 Summer School have now been confirmed: These are named in order of their appearance on Saturday 6th May. John Cunningham, Dr Dorothy Cashman, Professor Hiram Morgan, Professor Danielle Clarke and Professor John Mc Cafferty Director of the Mícheál Ó Cleirigh Institute, UCD
---
Podcast on the forthcoming Summer School
---
---
Aims and Objectives of the 2023 Mícheál Ó Cleirigh Summer School
Professor John McCafferty
Professor John McCafferty, Head of the Mícheál Uí Cléirigh Institute UCD will set out the aims and objectives of the 2023 Summer School
He was educated in UCD where he did VIIIb 'pure' History. Following the award of a First Class Honours degree, he embarked on an edition of the only surviving ecclesiastical 16th century 'Act Book' for Ireland. After that he spent some years in Cambridge first as a benefactor's scholar and then as a fellow of St. John's College. Speaking about his work he said
"My research at the time was about the Church of Ireland in the 1630s. Since returning to UCD in the mid-1990s my work has increasingly focused on church history and the history of belief in Ireland in the period from 1500-1700. As Director of the Mícheál Ó Cléirigh Institute I work in a unique partnership with the Irish Franciscans whose transfer of manuscripts and rare books has been one of the most significant donations ever made to an Irish university. Since 2017 I have been Chair of the Irish Manuscripts Commission, a body founded in 1928. Its membership consists of academic historians, archivists and genealogists from the whole
Feast- Food- Famine in North West Ireland
John Cunningham
John Cunningham was born in Ballyshannon, eldest son of Brian Cunningham N.T. a native of Donaghmoyne, Co., Monaghan and Mae Eves, Ederney. Attended Lettercran N.S., near Pettigo where he was taught by his father who was headmaster. Attended St. Michael's College, Enniskillen and St. Joseph's Training College, Belfast and became a school teacher. Retired as Headmaster of St. Davog's P.S. Belleek in 1996 to write, lecture and work as a genealogist and tour guide. He is married to Ann Monaghan, Pettigo and they have four children, Sonya, Brian, Joanne and John. His first printed article appeared in the Donegal Magazine produced by the Donegal Democrat in 1977. This was an article on Castle Caldwell. He has numerous articles in historical journals such as the Donegal Annual, Clogher Record, The Spark, Ulster Local Studies, Familia, Irish Sword, Computer Education, Queen's University Teachers' Centre History Journal, Ulster Genealogical and Historical Guild, The Septs, etc. John has several published books including: In1980. Castle Caldwell and Its Families; in 1993. The Letters of John O' Donovan from Fermanagh in 1834 (A unique glimpse into pre-Famine Ireland and in 2000. Monasteries and Early Church Sites of the River Erne (Over 1000 years of monastic and church history in Fermanagh, Cavan, Monaghan and Donegal.) Illustrated.
17th Century Irish Franciscans and what they ate
Dr Dorothy Cashman
Dr Dr Dorothy Cashman will give a talk on the diet of the Franciscans in the 17th Century. Dr. Cashman has extensively researched the culinary habits of the the Irish from Medieval times. Her works include 'The dough must be neither dauked nor opened on the side as is the custom in Ireland'. » in Centre for the Study of Historic Irish Houses and Estates, Maynooth University 'Indoors and Outdoors, Public and Private: Women 2015″ "That delicate sweetmeat, the Irish plum'. The culinary world of Maria Edgeworth" » in 'Tickling the Palate': Gastronomy in Irish Literature and Culture. Vol 57
Dorothy Cashman is an independent researcher in culinary history with a PhD from the Dublin Institute of Technology, now the Technological University of Dublin.
Famine and War in 16th Century Ireland
Professor Hiram Morgan
Professor Hiram Morgan was born in Belfast and studied at Our Lady's and St Patrick's College. Knock, Belfast and at St Catherine's College Cambridge and now lectures at University College, Cork.
He held various research fellowships and posts from 1988 to 1996 and has been lecturing in history at UCC since 1996. He has authored Tyrone's Rebellion, published by the Royal Historical Society (1993) and edited Political Ideology in Ireland (1999), Information and Media Through the Ages (2001) and the Battle of Kinsale (2004). He co-authored with John Barry Great Deeds in Ireland (2013 and worked with Dorothy Convery on Ireland 1518 (2015). He has contributed many peer-reviewed articles and was co-founder of History Ireland, Ireland's popular history magazine. He has been a principal investigator on several local, national and international
projects and is currently head of CELT, the world's largest website for Irish Studies which is hosted by the School of History at Cork.
17th Century Planters & their Recipes- The Parson Family of Birr
Professor Danielle Clarke
Professor Danielle Clarke, Professor at University College Dublin, School of English, Drama and Film, Dublin, Ireland , was educated in London and Oxford before coming to UCD in 1994. Most of her publications deal with writing by early modern women, their engagement with mainstream literary culture in particular. Other areas in which she has published include sexuality, literary theory,translation in the Renaissance, and textual criticism. Professor Clarke is currently working on a number of projects – a monograph on Gender and Cultural Reproduction 1500-1700; work on Irish recipe books from the 17th and early 18th centuries. She is also the editor of the Oxford Handbook of Early Modern Women's Writing.
---
Launch of the 2022 Mícheál Ó Cléirigh Summer School Book Friday 28th October 2022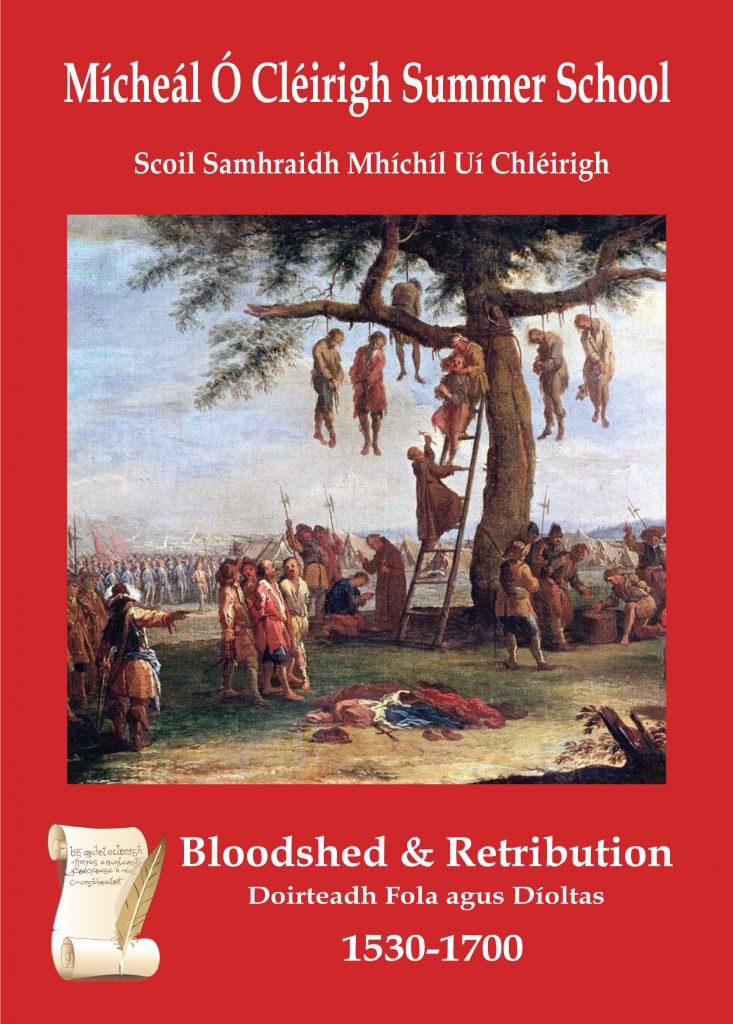 The launch of the 2022 Summer School book based on the topic of the weekend "Bloodshed and Retribution took place on Friday 28th October in McGinley's pub. After a brief introduction by Chairperson Fergus Cleary who welcomed the many guests including local South Donegal District Councillors, Barry Sweeney and Niamh Kennedy who are strong supporters of the Summer School. There was some short readings by one of the book editors, Tony Lenihan, from the various talks given by the speakers "To Barbados or Bofin by Dr. Áine Hensey; "The land of Ire and Slaughter" by Dr. Jim O'Neill; "The Martyrdom of Bishop O'Devenny" by Professor John McCafferty and "Punishment Pain and Plantation" by Dr. Coleman Dennehey. Co-Editor of the book Brian MacAmhlaigh was unable to attend the launch.
The closing remarks were given by committee member Molly Reynolds who thanked all those who attended for their support. In addition, the book also records the various other events held over the weekend- such as the school art winners and musical performances as well as the Sunday morning field trip. The book can be purchased at Novel Idea, Ballyshannon, Co Donegal
https://www.goldenpages.ie/a-novel-idea-ballyshannon
or by emailing ocleirighschool@gmail.com
Some photographs from the launch of the 2022 Summer School Book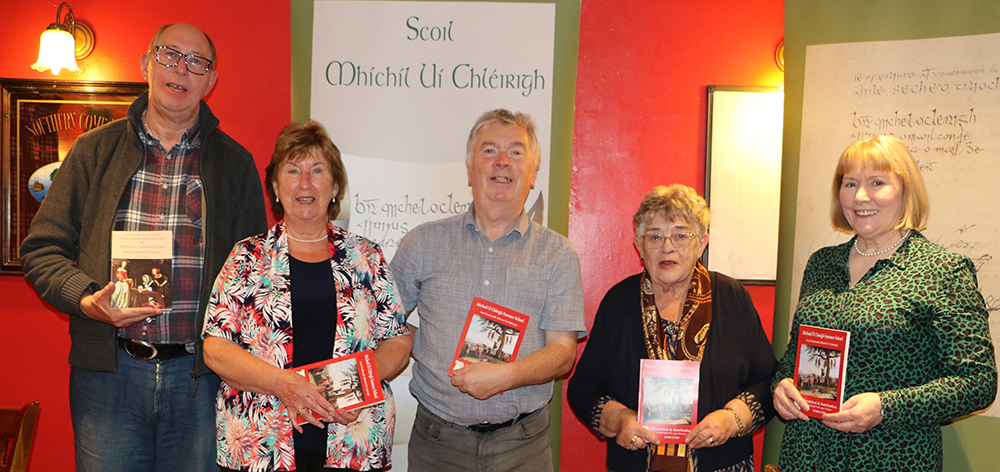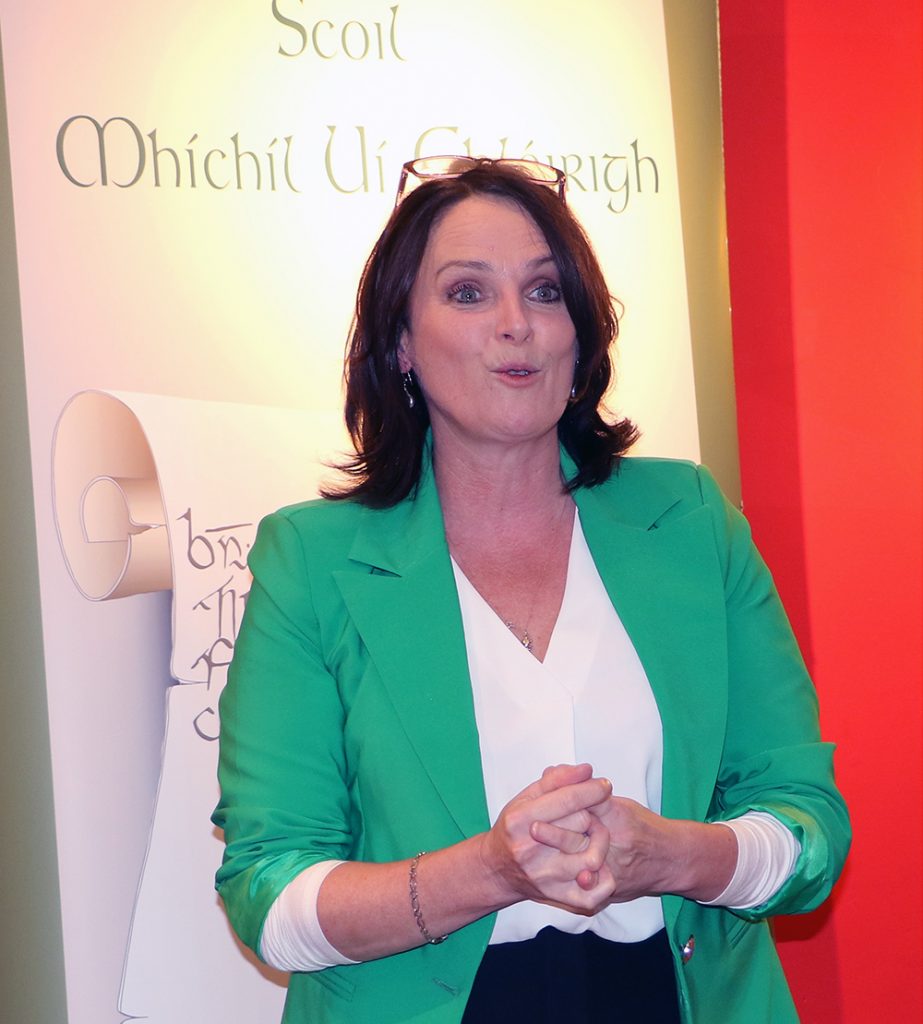 ---
---