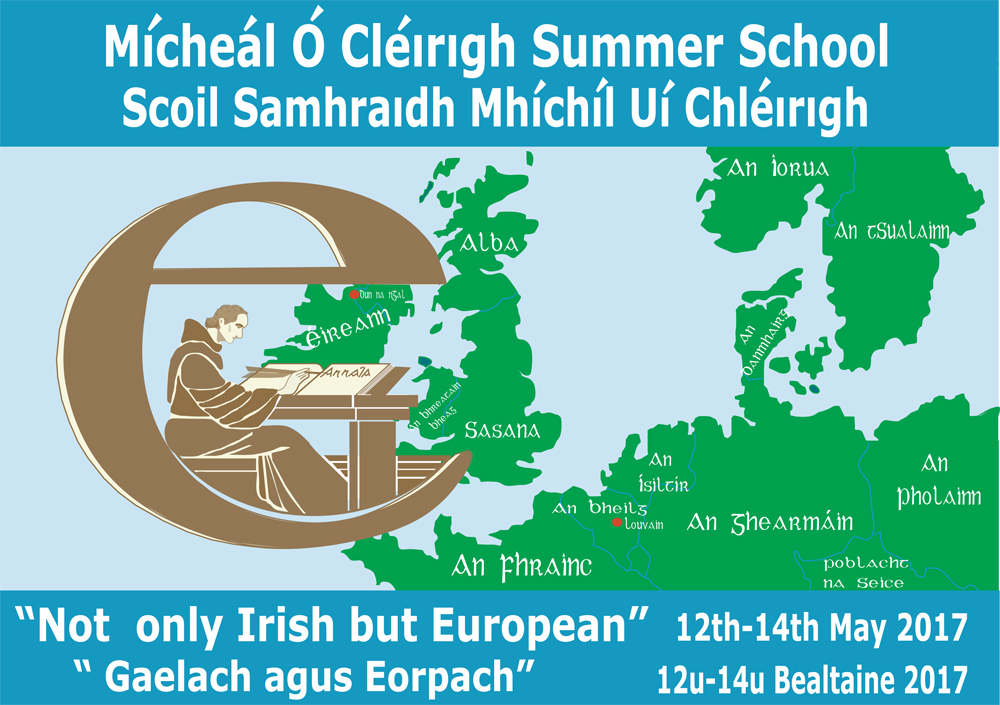 Some Pictures from the weekend events
Friday 12th May
2017 Summer School Official Opening
by Dr Mary Daly- President of  the Royal Irish Academy. Professor of Modern Irish History U.C.D.
When elected as President of the Royal Irish Academy in 2014 she was the first woman to be elected to that position in the Academy's 230 year history. Professor Mary Daly was educated at University College Dublin (BA, MA) and Nuffield College Oxford (D. Phil.). During her academic career at UCD she also held visiting positions at Harvard Boston College and EUI Florence.
7.45pm 
First Address -
Europe of the Regions – The Europe that Br. Mícheál Uí Cléirigh and the Irish Friars encountered after 1607.
By Dr. Alison Forrestal N.U.I. Galway
Dr Forrestal is a Lecturer in the Department of History at NUI Galway. Her interests lie in early modern European history. She has a particular interest in ecclesiastical and religious history of the 17th Century.
 8.45pm
Summer School Club-
Sandhouse Hotel- where the topics of the evening were discussed and considered!
Saturday 13th May
10.00am
Second Address-
Traders, tricksters and tearaways: the Irish in Europe in the 17th Century
  by Dr. Mark Empey N.U.I. Galway.
Dr. Mark Empey is a lecturer in early modern British and Irish history at the National University of Ireland, Galway. His research has focused on political and religious British and Irish history in the past.
He completed his PhD at University College Dublin (UCD) in 2009; with a thesis examined peripheral governments in the early Stuart period by comparing the policies Sir Thomas Wentworth pursued as king's representative in the Council of the North (Yorkshire) and in Ireland.
10.40am-
Third Address
Brexit- The potential fallout in Political & Constitutional terms
by Deaglán De Breadún, journalist,author & broadcaster.
Deaglán de Bréadún is a former award-winning journalist for the  Irish Times. He held a number of positions including Northern Editor, Foreign Affairs Correspondent, Irish Language Editor and most recently Political Correspondent.
11.45am
Fourth Address
Irish Culture today on a global & European stage.
by Dr Alan Titley U.C.C.
Alan Titley is a novelist, story writer, playwright and scholar. He has also written and presented documentary films on literary and historical subjects, and has been writing a weekly column for The Irish Times on current and cultural affairs since 2003.
He was born and raised in the city of Cork, where he studied to be a primary school teacher. His work took him to Nigeria where he taught during the Biafran War. While there he travelled extensively across West Africa through both jungle and desert. He returned and taught deaf children in Dublin while studying for an evening degree at University College Dublin.
1.00pm
-
Prize-givingPrimary School Art Competition
  Summer School Craft Events starting at 2.00pm
Irish Traditional Costumes -
A talk and demonstration of what was typical Gaelic dress for people in  17th Century Ireland by Proinsias Mag Fhionnghaille
Proinsias Mag Fhionnghaile is a writer, historian and tour guide from Ballyshannon. He has received the nominal letters C.I.O.M from Clans of Ireland for his years of work and research in the field of Irish history, in particular surname research and the study of traditional Irish clothing. He is also the historian for the McGinley clan and is the Curator of Ballyshannon & District Museum.
The Art of Calligraphy & the Annals
- a demonstration and talk of the materials and methods used by the annalists who worked on the "Annála Riochta na hÉirinn"
by Ann O' Clery
Ann O'Clery is a watercolour painter and calligrapher, has a degree in Architecture from UCD and a Diploma in Calligraphy from CLAS (Calligraphy and Lettering Arts Society). She is a member of CLAS and Peannairi (Association of Irish Calligraphers) and is Past President of the Water Colour Society of Ireland. Her paintings are in collections in Europe, Australia and US.  She has recently undertaken a study of the script of Michael O'Cleirigh.
The Art of Medieval Book Binding- a demonstration of the materials and methods used by medieval bookbinders.
By Tim Stampton
Tim Stampton is an artist and illustrator working from his studios in Malin, County Donegal, Ireland. He creates handmade prints from his wood engravings and woodcuts and also produces watercolour illustrations. In 1989, he moved to Ireland with the Irish artist Ros Harvey. Together established Ballagh Studio in Malin by converting old farm buildings. Ballagh Studio now includes personal studios, a printmaking workshop, a framing facility and a showroom that is open to the public.
His prints have been exhibited internationally, including shows in Canada, France, Germany, Holland, Ireland and the UK. He has illustrated a number of commercially published books (see below for a selection). He has also published several hand-printed, limited-edition books on Irish folklore under his own press, Apple & Wave.
3.45pm 
History Ireland -Hedge School
Ireland and Europe -Then and Now.
Panellists- John Mc Cafferty, Mark Empey & Alan Titley, Deaglán De Bréadún.
Moderated by Tommy Graham, Editor of History Ireland magazine.
Keynote Address
From Donegal to Purgatory (and back)
Europe Lough Derg & the Irish Franciscans
by Dr John McCafferty UCD
 

John McCafferty is Director of the Mícheál Ó Cléirigh Institute, a partnership between University College Dublin and the Irish Franciscans. He holds a PhD in history from Cambridge University and has taught in UCD, where he took his first two degrees, since 1994. He has published  on the histories of both Protestant and Catholic Churches in early modern Ireland
.
School Dinner in the Sandhouse Hotel
10.00pm
Musical Evening – Bel Canto- Erdini
Sunday 14th May
10.00am
Tour of the Four Masters Historical sites
Four Masters Monument, Mullinaleck Bridge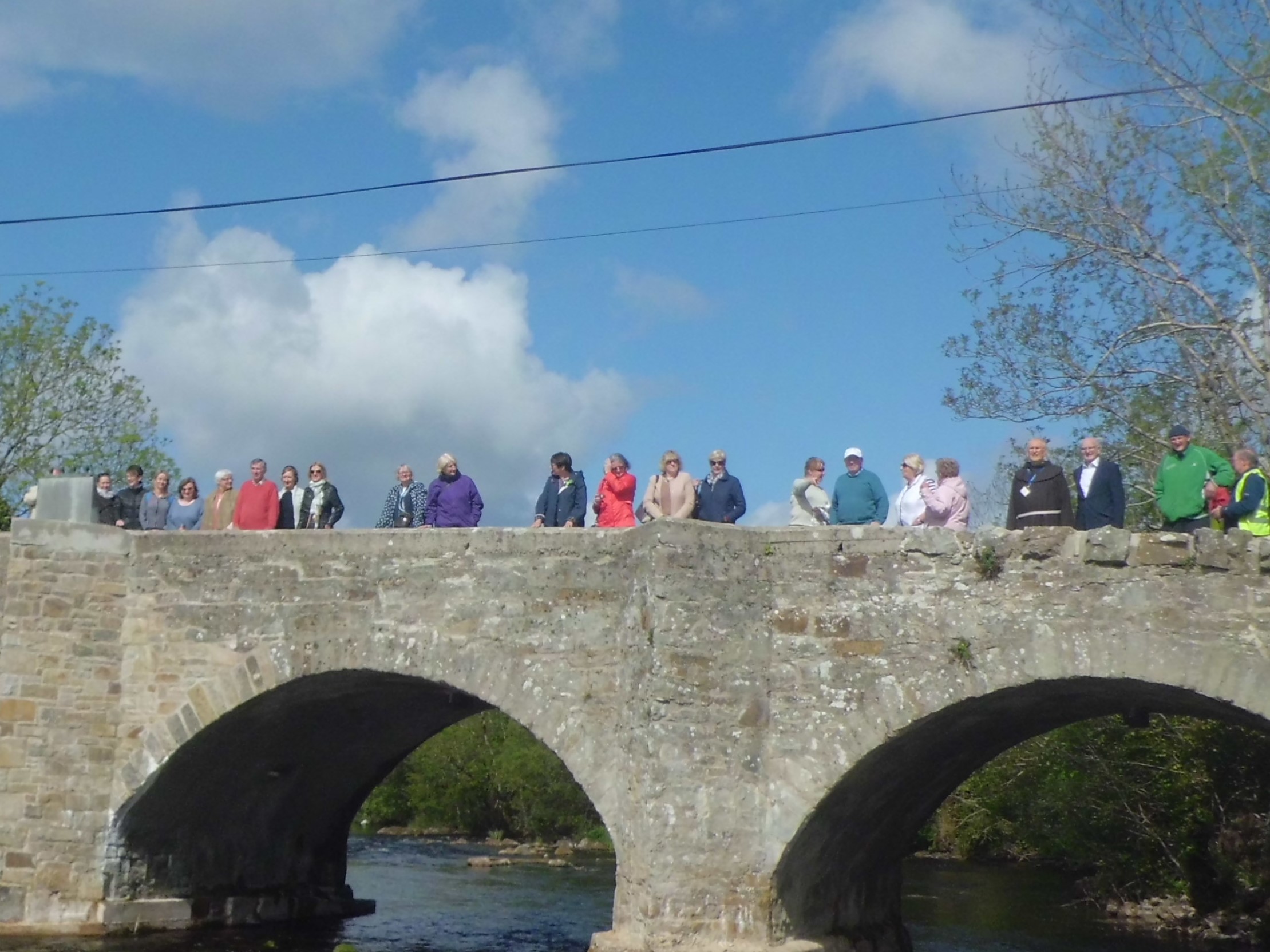 Ballyhanna Church and Graveyard, Ballyshannon
Abbey Assaroe & Abbey Mill
Abbey Mill