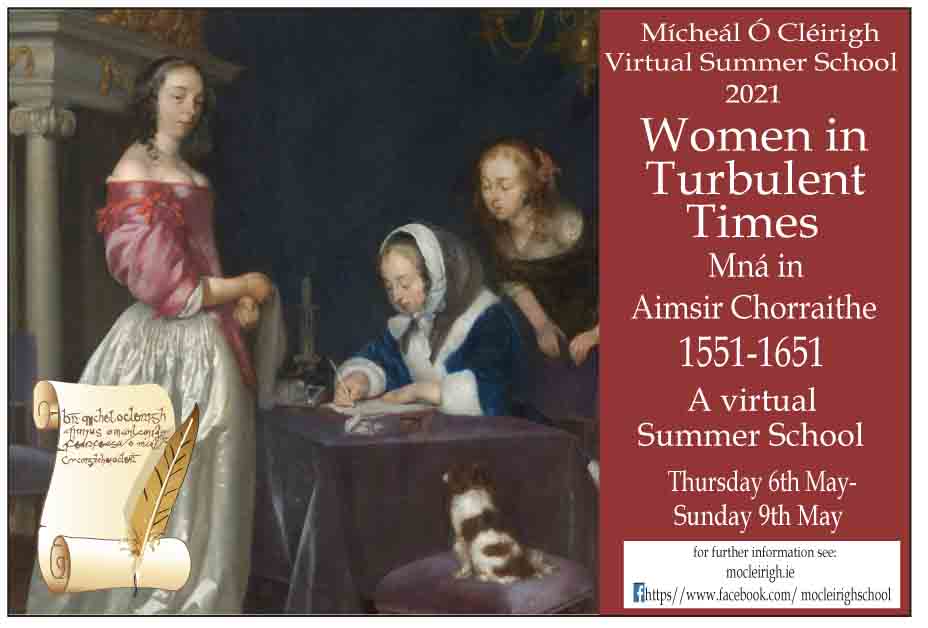 The 2021 Mícheál Ó Cléirigh Summer School will be a virtual Summer School and held over a long weekend beginning on
Thursday 6th May until Sunday 9th May
The theme of the 2021 Summer School will be "Women in Turbulent Times 1551- 1651" which will examine the role women played in this century of Irish history. Their story was largely forgotten but more recent research into the period has revealed a story of women taking charge of their families and property whilst their fathers, brothers or husbands were exiled, imprisoned or dead during this most turbulent time in Irish history.
We are currently working on the full programme which will be held over short sessions on the afternoons and evenings each day. We hope that this will go some way to give a flavour of what our Summer School weekend is like and to make up for the loss of our actual Summer School held in Rossnowlagh each year and which we hope can resume as normal in 2022.
We shall give details how to book for the Virtual Summer School in the next few weeks.
wil